The C-Lite is a compact light to fit on top of vehicles, aerial ladders, or practically anywhere one might need it.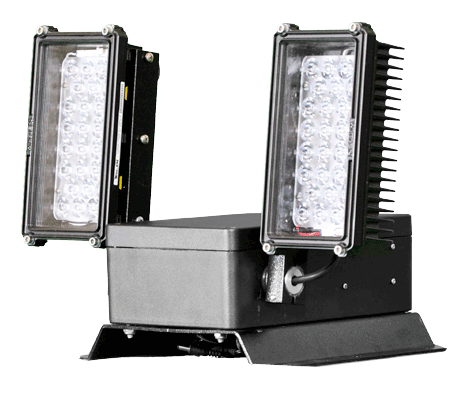 1
Compact, lightweight base to be mounted on almost anything, optional rotating bases available
2
LED lights – 1 Spot, 1 Flood for maximum versatility
3
Lights tilt 120° with the press of a button to get precise light where you need it
compact and low weight for any apparatus
lights tilt up to 120° up and down by panel mounted control
all-weather
Options

manual 355° rotation platform
electric 365° rotation platform
Wireless Control – 150ft range
Quartz light options available
HxWxD:     8.5″ x 16.5″ x 14.5″   –   215 mm x 420 mm x 340 mm
HxWxD (Fully Upright):     15.5″ x 16.5″ x 16.5″   –   395 mm x 420 mm x 420 mm
Weight:     18 lbs   –   8 kg
with Rotating Platform:     22 lbs   –   10 kg
Power Requirements:     12V DC   –   200w    –   16.5 amps
Rotational Tilt (Light Heads):     120° Up and Down
Rotational Platform(Optional):     Manual Platform – 355°
Electric Platform – 365°
Command Light's C-Lite is an extremely versatile, compact unit that boasts a powerful, concentrated beam of light, allowing the user to illuminate hard to reach areas not reached by fixed lights. A combination of one LED spotlight in addition to one LED floodlight comes standard creating a balanced light source to illuminate any job.
The C-Lite is deployed in seconds with a panel mounted control and is powered by AC, DC, or a combination depending on the user's need and can output up to 25,000 lumens. It's small, light weight, size can mount vertically or horizontally. Lights have the ability to tilt up to 120° and even rotate (with optional platform) making this unit extremely flexible for all types of applications including aerial tips, brow or side lights, command vehicles, and more.  The C-Lite also is great in utility industries and maintenance, farming, ranching, police, pipe line, and towing.
The C-Lite features the same quality as all other Command Light models and comes with the industry leading five year warranty. These units are maintenance free and designed for all weather – are unaffected by ice buildup, high winds, and blowing dust. Constructed from aluminum with stainless steel shafts and thermo-polymer bushings, the C-Lite is durable enough to last for years and has been tested in high and low temperatures and can withstand 90 mph winds.