---
LED TRAFFIC ADVISOR LIGHT BARS AND ARROW STICKS
---
---
---
INCREASE YOUR APPARATUS' VISIBILITY WITH A TRAFFIC FLOW BOARD
With rotational capabilities and multiple arrow patterns, Command Light's Traffic Flow Boards significantly improve scene visibility and responder safety. Each model comes with standard rotation, giving crews the ability to position these LED traffic advisor light bars and arrow sticks toward oncoming motorists to maximize effectiveness during blocking scenarios.
---
---
---
HOW TO CHOOSE A TRAFFIC FLOW BOARDS
---
Available in six different models (based on deployment and traffic pattern features), these units conserve space when stowed, while the versatile mounting system gives crews the ability to select various boards to conform to department standards.
---
STEP 1: SELECT YOUR FLOW BOARD PROFILE
---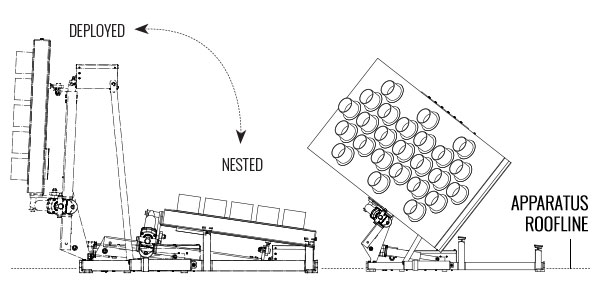 ---
FOLD-DOWN DESIGN (H MODELS)
The H Model features a fold-down design that mounts to the apparatus to create a low-profile. Once deployed, the flow board can be rotated toward oncoming traffic.
---

---
VERTICAL POP-UP (V MODELS)
The V Model's patented motion (US Patent #8638209) creates the lowest possible profile with this vertical pop-up design that recesses into the apparatus.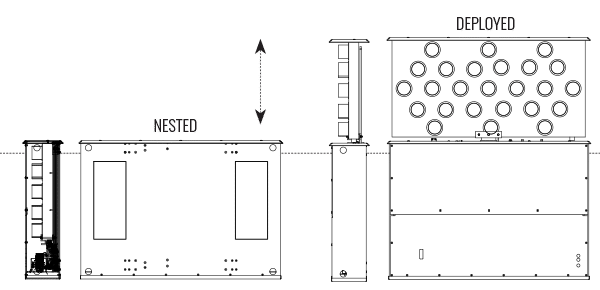 ---
---
---
STEP 2: SELECT YOUR TRAFFIC PATTERN
---

---
7 SERIES LED TRAFFIC ADVISOR ARROW STICK
The 7 Series offers the greatest variety of traffic patterns in this LED traffic advisor arrow stick and can be deployed via the fold-down design or the vertical pop-up design
---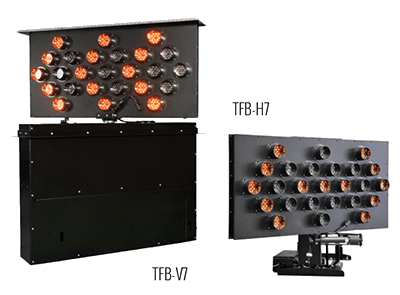 ---
5 SERIES LED TRAFFIC ADVISOR ARROW STICK
The 5 Series offers essential traffic patterns in a lighter design. The LED arrow stick can be deployed via the fold-down design or the vertical pop-up design.
---

---
3 SERIES LED TRAFFIC ADVISOR LIGHT BAR
The 3 Series features an LED traffic advisor light bar that provides a pulsing movement to guide traffic. The light bar mounts to the top of a SL Series traffic tower.
---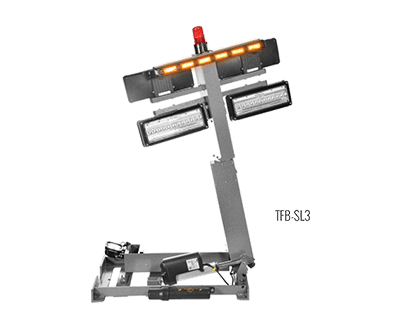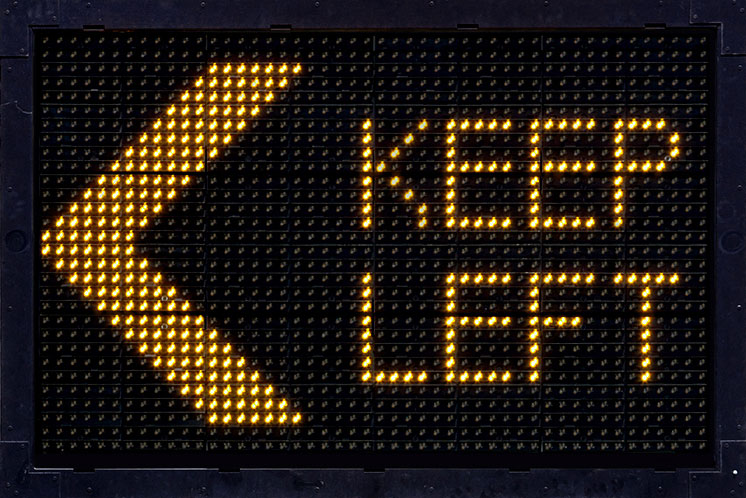 ---
Our Message Board Series provides up to two lines of programmed messaging, digital graphics and arrow patterns on a 36" x 67" digital board.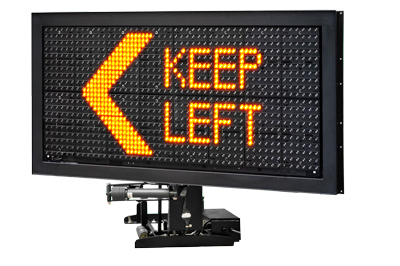 ---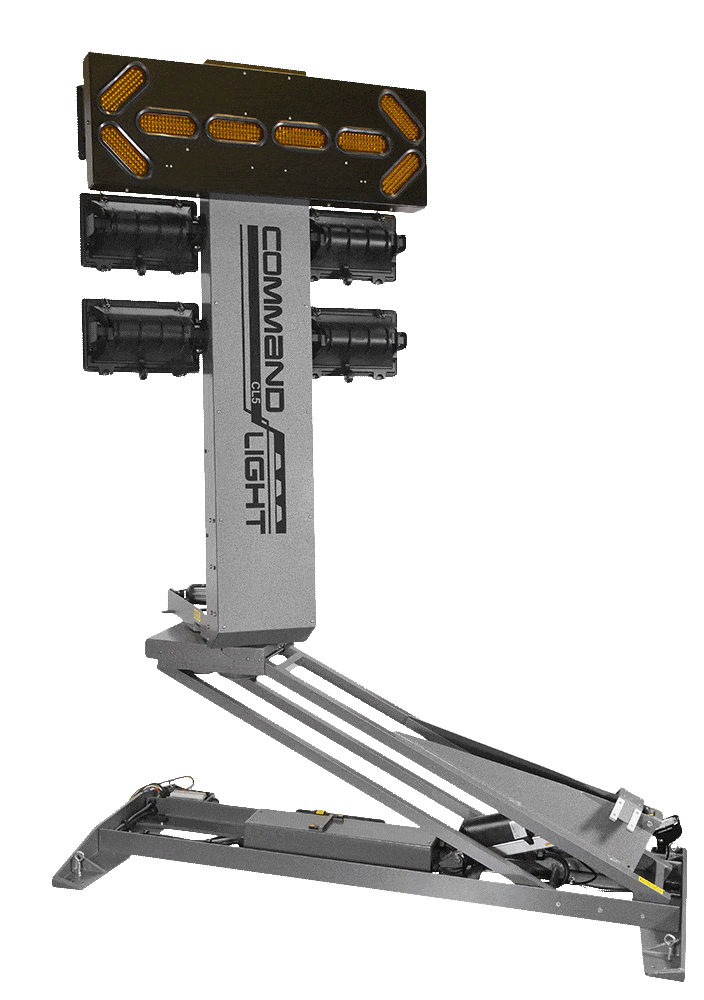 ---
EnHANCE YOUR COMMAND LIGHT TOWER WITH A TRAFFIC ADVISOR
Command Light's multitasking TFB-CL5 can light up a scence while directing traffic, increasing your crews visibility and saftey at the touch of a button.
---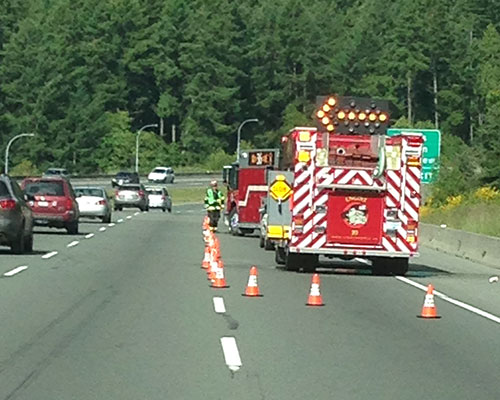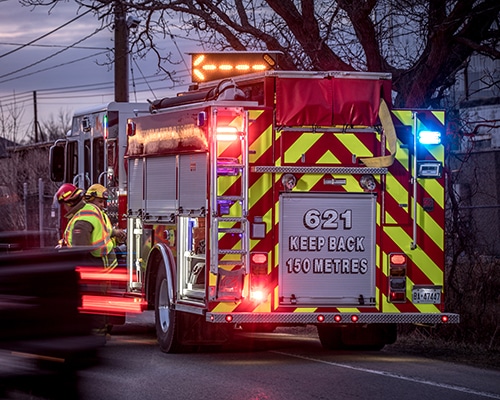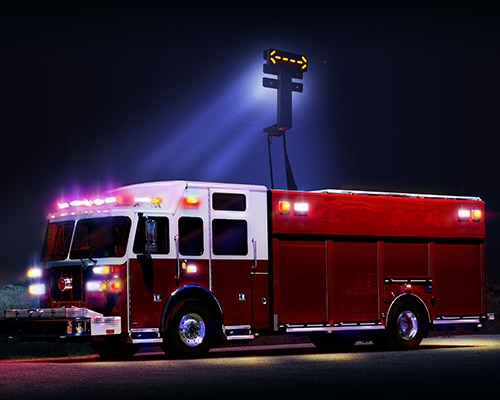 Click the chart's model number for that unit's individual spec sheet.
DC
Movement
TRAFFIC PATTERN
POWER REQUIREMENTS
HXWXD (NESTED)
HXWXD (UPRIGHT)
Weight
TFB-V7
Vertical pop-up, recessed in apparatus
Greatest variety of traffic patterns
12V DC - 19 amps
43" x 64" x 13"
1,092 mm x 1,626 mm x 330 mm
75" x 64" x 13"
1,905 mm x 1,626 mm x 330 mm
220 lbs
100 kg
TFB-H7
Horizontal Fold-down design
Greatest variety of traffic patterns
12V DC - 28 amps
16" x 60" x 46"
406 mm x 1,524 mm x 1,168 mm
44" x 60" x 66"
1,118 mm x 1,524 mm x 1,676 mm
150 lbs
68 kg
TFB-V5
Vertical pop-up, recessed in apparatus
Essential traffic patterns
12V DC - 17 amps
28" x 44" x 13"
711 mm x 1,118 mm x 330 mm
43" x 44" x 13"
1,092 mm x 1,118 mm x 330 mm
150 lbs
68 kg
TFB-H5
Horizontal Fold-down design
Essential traffic patterns
12V DC - 17 amps
8" x 48" x 40"
203 mm x 1,219 mm x 1,106 mm
52" x 70" x 40"
1,321 mm x 1,778 mm x 1,016 mm
80 lbs
36 kg
TFB-CL5
Mounted to a CL Series tower
Essential traffic patterns
12V DC - 10 amps
+ tower requirements
Variable based on tower selection
Variable based on tower selection
28 lbs
13kg + tower
TFB-SL3
Mounted to a Shadow Series tower
Directional light bar
12V DC - 5 amps
+ tower requirements
Variable based on tower selection
Variable based on tower selection
14 lbs
6kg + tower
TFB-HM2
Horizontal Fold-down design
Essential traffic patterns and messages
12V DC - 27 amps
325w
13" x 76" x 43"
330mm x 1,930mm x 1,095mm
43" x 76" x 34"
1,090mm x 1,930mm x 865mm
220lbs
100kg
TFB-HM3
Horizontal Fold-down design
Essential traffic patterns and messages
12V DC - 38 amps
450w
13" x 76" x 56"
330mm x 1,930mm x 1,420mm
56" x 76" x 34"
1,420mm x 1,930mm x 865mm
240lbs
110kg