Shadow SERIES LIGHT TOWERS WITH 4.5' to 6.5' REACH
---
---
---
---
---
---
---
Shadow SERIES
LIGHT TOWERS WITH
4.5' to 10' REACH
---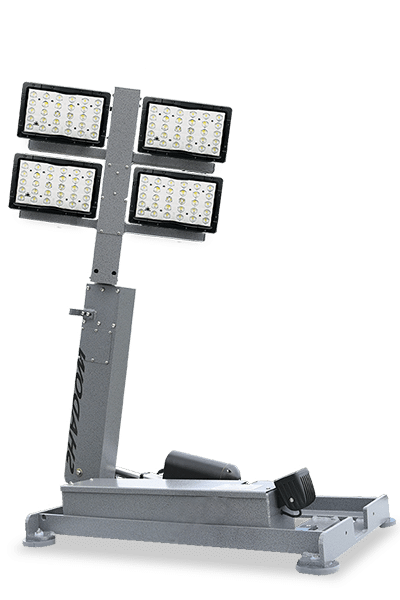 ---
SHADOW SERIES: COMPACT UNIT
The Shadow Series are among Command Light's most compact light towers for sale when space is at a premium. These units have a reach of more than 4 feet from its base (or up to 6.5' with optional long arm), weight approximately 65 lbs., and are manufactured using aircraft-grade aluminum alloy for strength. Thanks to this compact size, these units can fit on SUVs, vans and pickup trucks, all while featuring 355 degrees of rotation and Command Light's patented movement that allows different sections of the tower to move to direct scene lighting.
The SL Series is available with quartz halogen bulbs or LED light tower fixtures in the following:
---
---
---
---
---
VIRTUALLY DEMO THIS TOWER'S MOVEMENTS
---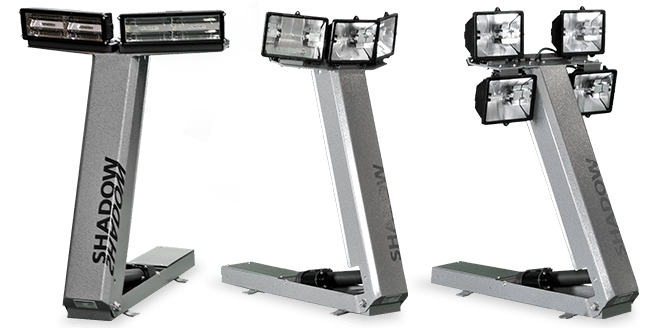 ---
ELEVATED LIGHTING WITHOUT ROTATION
Tight budget? The Straight Shadow is one of Command Light's most economical solutions in maintaining efficient scene lighting. Featuring only elevated capabilities (and not rotation), this unit offers a 3.5' reach from its base. The Straight Shadow also can be easily modified to elevate cameras and antennas.
---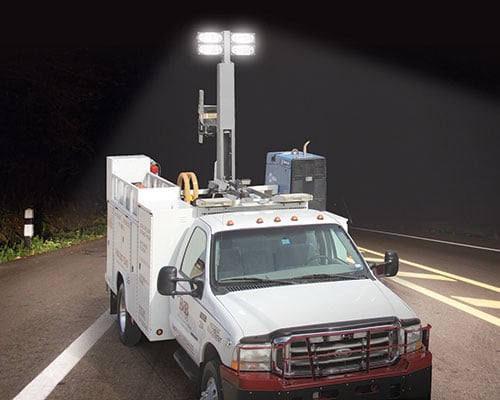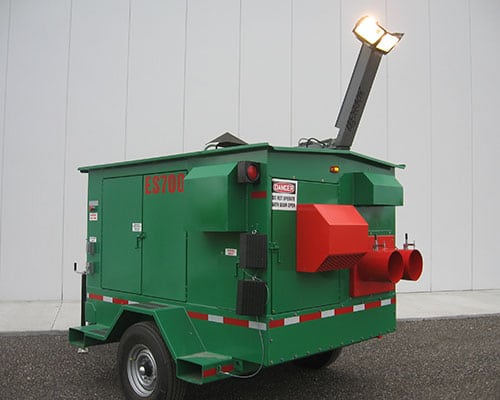 FOR INDIVIDUAL SPEC SHEETS, CLICK THE MODEL NUMBER IN THE CHART
AC/DC
Lighting
Power
Requirements
Output
(Per Light)
Total
Output
H×W×D
(Nested)
H×W×D
(Upright)
Weight
SL442A-CH
Helios
60w
12V DC + 115V or 230V AC
420w
14,000
lumens
56,000
lumens
8" x 54" x 34"
205 mm x 1,375 mm x 865 mm
55" x 36" x 34"
1,395 mm x 915 mm x 865 mm
75 lbs
35 kg
SL442A–FS
FRC Spectra
220w
12V DC + 115V or 230V AC
1,060w
20,000
lumens
80,000
lumens
8" x 54" x 34"
205 mm x 1,375 mm x 865 mm
55" x 36" x 34"
1,395 mm x 915 mm x 865 mm
75 lbs
35 kg
SL442A–FX
FRC Spectra Max
335w
12V DC + 115V or 230V AC
1,520w
28,000
lumens
112,000
lumens
8" x 54" x 34"
205 mm x 1,375 mm x 865 mm
55" x 36" x 34"
1,395 mm x 915 mm x 865 mm
75 lbs
35 kg
SL442A–W1
Whelen PSP1
75w
12V DC + 115V or 230V AC
480w
8,517
lumens
34,068
lumens
8" x 54" x 22"
205 mm x 1,375 mm x 559 mm
55" x 36" x 22"
1,395 mm x 915 mm x 559 mm
75 lbs
35 kg
SL442A–W2
Whelen Pioneer Plus PFP2
150w
12V DC + 115V or 230V AC
780w
20,442
lumens
81,768
lumens
8" x 54" x 33"
205 mm x 1,375 mm x 835 mm
55" x 36" x 33"
1,395 mm x 915 mm x 835 mm
75 lbs
35 kg
DC
Lighting
Power
Requirements
Output
(Per Light)
Total
Output
H×W×D
(Nested)
H×W×D
(Upright)
Weight
SL442D-CH
Helios
60w
12V DC – 35 amps
420w
14,000
lumens
56,000
lumens
8" x 54" x 34"
205 mm x 1,375 mm x 865 mm
55" x 36 " x 34"
1,395 mm x 915 mm x 865 m
75 lbs
35 kg
SL442D–FE
FRC Evolution
160w
12V DC – 70 amps
820w
20,000
lumens
80,000
lumens
8" x 54" x 32"
205 mm x 1,375 mm x 815 mm
55" x 36" x 32"
1,395 mm x 915 mm x 815 mm
75 lbs
35 kg
SL442D–FS
FRC Spectra
220w
12V DC – 90 amps
1,060w
20,000
lumens
80,000
lumens
8" x 54" x 34"
205 mm x 1,375 mm x 865 mm
55" x 36" x 34"
1,395 mm x 915 mm x 865 mm
75 lbs
35 kg
SL442D–FX
FRC Spectra Max
230w
12V DC - 54 amps
640 w
28,000
lumens
112,000
lumens
8" x 54" x 34"
205 mm x 1,375 mm x 865 mm
55" x 36" x 34"
1,395 mm x 915 mm x 865 mm
75 lbs
35 kg
SL442D-LX
Lightforce HTX LED/HID
150w
12V DC – 65 amps
780w
13,500
lumens
54,000
lumens
8" x 56" x 23"
203 mm x 1,422 mm x 584 mm
57" x 46" x 23"
1,448 mm x 1,169 mm x 584 mm
75 lbs
35 kg
SL442D–W1
Whelen Pioneer Plus PCH1
75w
12V DC* – 40 amps
480w
10,130
lumens
40,520
lumens
8" x 54" x 22"
205 mm x 1,375 mm x 559 mm
55" x 36" x 22"
1,395 mm x 915 mm x 559 mm
75 lbs
35 kg
SL442D–W2
Whelen Pioneer Plus PFH2
150w
12V DC* – 60 amps
780w
20,261
lumens
81,044
lumens
8" x 54" x 33"
205 mm x 1,375 mm x 835 mm
55" x 36" x 33"
1,395 mm x 915 mm x 835 mm
75 lbs
35 kg
---
AC/DC
Lighting
Power
Requirements
Output
(Per Light)
Total
Output
H×W×D
(Nested)
H×W×D
(Upright)
Weight
SL447A–FF
FRC Focus
750w
12V DC + 115V or 230V AC
3,180w
19,600
lumens
78,400
lumens
8" x 54" x 23"
205 mm x 1,375 mm x 585 mm
49.5" x 52" x 23"
1,260 mm x 1,320 mm x 585
70 lbs
32 kg
SL445A–LF
Lumenform
500w
12V DC + 115V or 230V AC
2,180w
11,100
lumens
44,400
lumens
8" x 54" x 22"
205 mm x 1,375 mm x 560 mm
55" x 36" x 22"
1,395 mm x 915 mm x 560 mm
70 lbs
32 kg
---
AC/DC
Lighting
Power
Requirements
Output
(Per Light)
Total
Output
H×W×D
(Nested)
H×W×D
(Upright)
Weight
SL422A-CH
Helios
60w
12V DC + 115V or 230V AC
300w
14,000
lumens
28,000
lumens
8" x 54" x 34"
205 mm x 1,375 mm x 865 mm
55" x 36 " x 34"
1,395 mm x 915 mm x 865 mm
70 lbs
32 kg
SL422A–FS
FRC Spectra
220w
12V DC + 115V or 230V AC
620w
20,000
lumens
40,000
lumens
8" x 54" x 34"
205 mm x 1,375 mm x 865 mm
55" x 36 " x 34"
1,395 mm x 915 mm x 865 m
70 lbs
32 kg
SL422A–FX
FRC Spectra Max
335w
12V DC + 115V or 230V AC
850w
28,000
lumens
56,000
lumens
8" x 54" x 34"
205 mm x 1,375 mm x 865 mm
55" x 36 " x 34"
1,395 mm x 915 mm x 865 mm
70 lbs
32 kg
SL422A–W2
Whelen Pioneer Plus PFP2
150w
12V DC + 115V or 230V AC
480w
20,442
lumens
40,884
lumens
8" x 54" x 33"
205 mm x 1,375 mm x 840 mm
55" x 36 " x 33"
1,395 mm x 915 mm x 840 mm
70 lbs
32 kg
DC
Lighting
Power
Requirements
Output
(Per Light)
Total
Output
H×W×D
(Nested)
H×W×D
(Upright)
Weight
SL422D–FE
FRC Evolution
160w
12V DC – 35 amps
500w
20,000
lumens
40,000
lumens
8" x 54" x 32"
205 mm x 1,375 mm x 815 mm
55" x 36 " x 32"
1,395 mm x 915 mm x 815 mm
65 lbs
30 kg
SL422D–FS
FRC Spectra
230w
12V DC – 42 amps
620w
20,000
lumens
40,000
lumens
8" x 54" x 34"
205 mm x 1,375 mm x 865 mm
55" x 36 " x 34"
1,395 mm x 915 mm x 865 mm
65 lbs
30 kg
SL422D–FX
FRC Spectra Max
230w
12V DC – 54 amps
640w
28,000
lumens
56,000
lumens
8" x 54" x 34"
205mm x 1,375 mm x 865 mm
55" x 36 " x 34"
1,395 mm x 915 mm x 865 mm
65 lbs
30 kg
SL422D–W1
Whelen Pioneer Plus PCH1
75w
12V DC* – 20 amps
330w
10,130
lumens
20,260
lumens
8" x 54" x 22"
205 mm x 1,375 mm x 560 m
55" x 36 " x 22"
1,395 mm x 915 mm x 560 mm
65 lbs
30 kg
SL422D–W2
Whelen Pioneer Plus PFH2
150w
12V DC* – 35 amps
480w
20,261
lumens
40,552
lumens
8" x 54" x 33"
205 mm x 1,375 mm x 840 mm
55" x 36 " x 33"
1,395 mm x 915 mm x 840 mm
65 lbs
30 kg
AC/DC
Lighting
Power
Requirements
Output
(Per Light)
Total
Output
H×W×D
(Nested)
H×W×D
(Upright)
Weight
SL428A-HQ
Hubbell Quartzliter
1,000w
12V DC + 230V AC
2,180w
21,500
lumens
43,000
lumens
8" x 54" x 32"
205 mm x 1,375 mm x 815 mm
55" x 36 " x 32"
1,395 mm x 915 mm x 815 mm
65 lbs
30 kg
SL429A–HQ
Hubbell Quartzliter
1,500w
12V DC + 230V AC
3,180w
35,800
lumens
71,600
lumens
8" x 54" x 32"
205 mm x 1,375 mm x 815 mm
55" x 36 " x 32"
1,395 mm x 915 mm x 815 mm
65 lbs
30 kg
---
DC
Lighting
Power
Requirements
Output
(Per Light)
Total
Output
H×W×D
(Nested)
H×W×D
(Upright)
Weight
SS322D-CH
(2) Helios
60w
12V DC – 20 amps
240w
14,000
lumens
28,000
lumens
9" x 42" x 30"
230 mm x 1,065 mm x 762 mm
43" x 45" x 30"
1,092 mm x 1,143 mm x 762 mm
45 lbs
20 kg
SS322D-W2
(2) Whelen Pioneer Plus
PFH2
150w
12V DC – 34 amps
420w
20,261
lumens
40,522
lumens
8" x 42" x 30"
205 mm x 1,067 mm x 760 mm
43" x 45" x 30"
1,092 mm x 1,143 mm x 760 mm
45 lbs
20 kg
AC/DC
Lighting
Power
Requirements
Output
(Per Light)
Total
Output
H×W×D
(Nested)
H×W×D
(Upright)
Weight
SS322A-CH
(2) Helios
60w
12V DC + 115V or 230V AC
240w
14,000
lumens
28,000
lumens
9" x 42" x 30"
230 mm x 1,065 mm x 762 mm
42.5" x 45 " x 30"
1,080 mm x 1,143 mm x 762 mm
45 lbs
20 kg
SS322A-W2
(2) Whelen PFP2
150w
12V DC + 115V or 230V AC
400w
20,442
lumens
40,884
lumens
9" x 42" x 30"
230 mm x 1,065 mm x 762 mm
42.5" x 45 " x30"
1,080 mm x 1,143 mm x 762 mm
45 lbs
20 kg
---
AC/DC
Lighting
Power
Requirements
Output
(Per
Light)
Total
Output
H×W×D
(Nested)
H×W×D
(Upright)
Weight
SS335A-LF
(3) Lumenform
500w
12V DC + 115V or 230V AC
1,620w
11,100
lumens
33,300
lumens
9" x 42" x 26"
230 mm x 1,065 mm x 660 mm
42.5" x 44.75 " x 26"
1,080 mm x 1,135 mm x 660 mm
40 lbs
18 kg
SS345A-LF
(4) Lumenform
500w
12V DC + 115V or 230V AC
2,120w
11,100
lumens
44,400
lumens
8" x 42" x 25"
205 mm x 1,065 mm x 635 mm
44" x 44.75" x 25"
1,120 mm x 1,135 mm x 635 mm
45 lbs
20 kg
---